ISKCON Newcastle (Hindu) Temple
Read recent feedbacks: IES Recent Feedback 1712019
Presentations to Primary Schools
Feedback From Groups who visited us recently

Hi Kirtida
Thank you so much for our visit last week.
The children had a fantastic time.
I have attached a picture collage of the day as they all look so happy.
Thank you once again.
Hope to see you next year,

Nicola Brown
Assistant Headteacher
King Edward Primary School

---

Thank you so much for your visit to Castle Carrock. The children learned so much and really enjoyed it.
Mrs Fiona White
Castle Carrock Primary, Brampton, Cumbria

---

Dear Kirtida,
Just a note to say thank you very much for visiting us at school last week. The workshop sessions were enjoyed by children and staff and will help us as we explore Hindu beliefs and the impact on way of life during the rest of this term.
As I mentioned, we work on a two year rolling programme at WJS so I look forward to contacting you, probably in July 2017, to arrange our next visit to the temple in the Autumn term of that year!
Many thanks, and best wishes,

Caroline Boardman
RE Coordinator
Wingate Junior School
Co Durham
---
Opportunities available
As representatives of ISKCON Educational Services, we offer the following services to schools: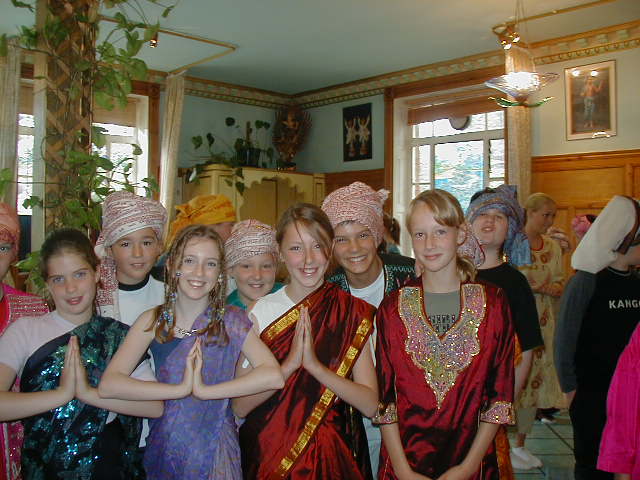 Temple visits or providing a guest visitor to your school
Discussions on Vedic (Hindu) culture and Philosophy, with artefacts, anecdotal stories and audience participation. Topics include: animals, art, buildings, customs, dress, food, holy men, music, religious beliefs, and rituals, weather. Question and answer sessions included.
Dressing up in Indian costume and face painting.
Demonstration of the traditional arati ceremony worship as practiced by Hindus.
Playing of Indian musical instruments.
Workshops: e.g. making garlands and lamps for the shrine, mock weddings.
A Story. Tales from Ramayana, Mahabharata, Panca-Tantra etc. Basic morality might be included (e.g., why we should not tell lies). Children can be involved in dressing up, role-play etc.
Prashad: traditional vegetarian lunch (temple only) or sample of food
Temple shop offering a variety of souvenirs and artefacts for both students and teachers
INSET/Initial Teacher Training
Please contact us for more details (see below)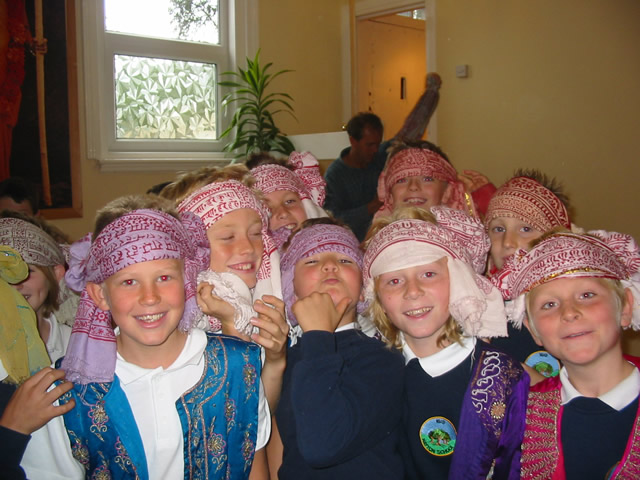 Service Charges
ISKCON Educational Services aims to both support your teaching and maintain our own work in religious, moral & multicultural education. In certain circumstances we can make concessions, e.g when the RE budget is very low or when we are visiting a distant school and the travel expenses are unusually high. Please feel free to discuss these matters with us.
All charges are subject to VAT@20%
Visits to the temple
Without lunch                  £3.20 – £5.00    per head depending on details
With vegetarian lunch     £5.70 – £7.40    per head depending on details


Visits to your school
£49 per hour

Travel expenses: by car: 60p/mile

Or by public transport: refund of tickets etc.

INSET
Please contact us for more details
Please make all cheques payable to ISKCON.
We offer one month for settling payment, but prefer to do so on the day.
Getting in Touch
If you are interested, please contact:
Kirtida Dasi
ISKCON (Newcastle)
304 Westgate Road
Newcastle upon Tyne
NE4 6AR
Tel: 07931769494