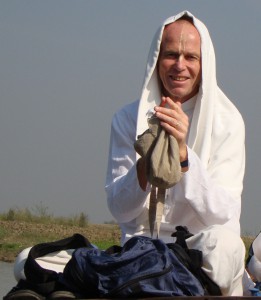 We invite you to a 3 day seminar conducted by His Grace Suresvara Prabhu, here at ISKCON Newcastle. It will be presented in 3 sessions, the times and dates of which are as follows:
20th September 2014 [Saturday] ; 6 PM – 8PM
21st September 2014 [Sunday] ; 10AM – Noon
22nd September 2014 [Monday] ; 6PM – 8PM
Suresvara Prabhu joined the Hare Krishna movement in 1970 and received 1st and 2nd initiations from Srila Prabhupada in 1971 & 1972.
In 2011, while teaching at the Mayapur Institute for Higher Education, his concern over the lack of connection many younger devotees were feeling for our founder-acarya reached a tipping point, so that year he began researching and presenting the seminar, "Srila Prabhupada, Our Founder-Acarya."
With the encouragement of the Mayapur Institute and the GBC committee, "Srila Prabhupada's Position," Suresvara Prabhu has been traveling the ISKCON world with the founder-acarya seminar helping devotees deepen their relationship with, commitment to, and love for our beloved founder-acarya, His Divine Grace A.C. Bhaktivedanta Swami Prabhupada.
…….
In this invite you can find attached a seminar overview [kindly forgive the font incompatibility] and Suresvara Prabhu's picture.
To further encourage everyone, here are a few appreciations of the seminar by other devotees —
"Suresvara Prabhu's seminar on the essential, profound and pivotal relevance of the founder-acarya to every ISKCON devotee's life deeply entered the heads and hearts of all who attended. I recommend that ISKCON audiences somehow try to schedule all ten sessions, rather than just a quick synopsis." (HH Devamrita Swami, January 2014)
"In October 2011 we at the Bhaktivedanta College were fortunate to experience Suresvara Prabhu's founder-acarya seminar, which is dynamic, informative, and enormously relevant for all ISKCON devotees. I highly recommend this presentation to anyone interested in understanding more about Srila Prabhupada's preeminent position in ISKCON."
(HG Dinadayal dasa, Director of Online Learning, Bhaktivedanta College, Radhadesh) February 2012
"This inspiring presentation is a good start that takes us in the right direction–to the lotus feet of Srila Prabhupada, his personality, his mission and us."
(HH Candramauli Swami) February 2012