World Holy Name Week starting from 24th Sept to 4th Oct 2015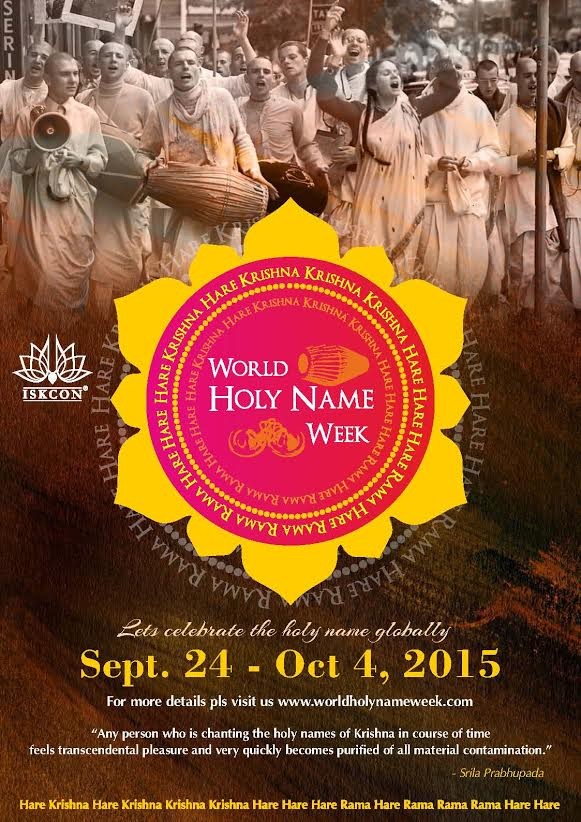 Please visit www.worldholynameweek.com
16 Ideas for Making Your WHNW Great!
1. Nagar Sankirtan – Harinaam processions with WHNW and mahamantra banners.
2. 24 hours and/or 12 hours Sankirtan yajna – Non-stop kirtan for 24/12 hours.
3. Japathon – Pledges from devotees and congregation to chant extra rounds during this period.
4. Morning Bhagvatam class on Holy names as the theme– Morning Bhagvatam classes emphasizing on glories and importance of Holy Names.
5. Japa Seminars – Seminars on japa related topics e.g japa reform, 10 offenses, types of japa etc
6. Update your temple website with features of WHNW and your events.
7. Sunday feast lectures/ dramas/Street Plays on Holy Names – Presentations based on importance of Holy names and related topics.
8. Japa Booth– Putting a table with beads and pamphlets in the temple for whole week encouraging new comers to get the beads and chant.
9. Inter Faith events – Invite other religions/faiths for Kirtans and other Holy Name related events.
10. Radio Shows – – Broadcasting Hare Krishna Kirtans, especially Srila Prabhupada dhun on radio.
11. Holy Name walks – Padyatras to nearby towns and villages to distribute holynames, prabhupada books and Prasad. The walks should be 3 days, a week or even 10 days! There should be kirtan along with the Padyatra.
12. Harinaam concerts– Arrange Harinaam concerts (Kirtan in different styles and with musical instruments) for public.
13. Banners – Post Hare krishna mahamantra and WHNW banners/hoardings throughout the city/town/villages.
14. Giftshop Sale – Special discount on Kirtan/bhajan CD's/DVD's during this period
15. Harinam Rathcart – H.H. Jayapataka Swami Maharaja expressed that we can gather more devotees together to chant Hare Krishna if we utilize a Harinam Rathacart. Just like many people are attracted to Jagananatha Rathayatra, and enjoy pulling the cart and serving the Lord, similarly, people will be attracted to pulling a cart with Harinam Prabhu on the cart. We can worship Harinam Prabhu in the form the Hare Krishna Maha Mantra in printed form. The sixteen words of the mahamantra can be placed up on the Rathcart. We can offer arotik, and flowers. People throughout the route of the procession can benefit by hearing the Hare Krishna Maha Mantra, and also seeing the beautiful form of the letters of the Hare Krishna Maha Mantra.
16. Kirtan Mela – We are indeed fortunate that a new wave of enthusiasm for kirtan is sweeping the planet in the form of Kirtan Mela. H.H. Sacinandan Swami Maharaja first hosted Kirtan Mela in Germany in 2010. Since that time, Kirtan Mela has become a regular feature of the Mayapur Festival. Devotees come from all over the world to participate. The most accomplished and recognized kirtaniyas are giving the opportunity to serve the devotees by chanting according to a well organized schedule. The kirtan mela may be a one day event, or as is often the case as a recent successful kirtan mela in Mumbai, for several days.