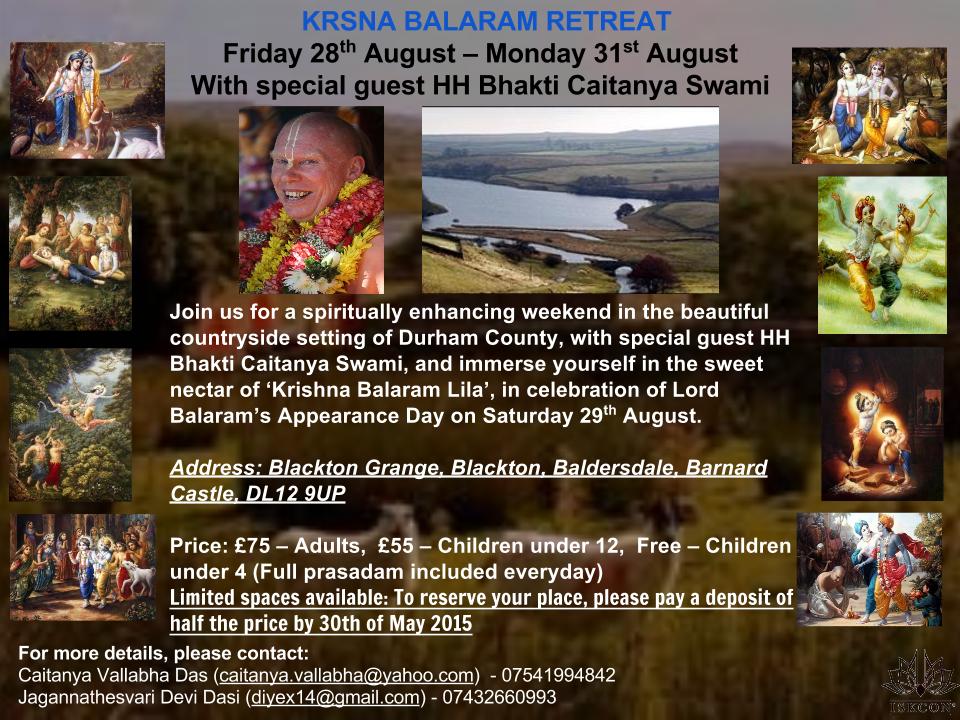 We would like to invite you to a fantastic devotional event that will be taking place on the August bank holiday weekend, from Friday 28th till Monday 31st.
We will be hosting a unique 'Krishna Balaram Retreat' with special guest His Holiness Bhakti Caitanya Swami, in the beautiful countryside setting of Durham County.
The main theme of the retreat will be 'Krishna Balaram lila' because Lord Balaram's appearance day will be taking place on the Saturday of the retreat. HH Bhakti Caitanya Swami is also well-known for his beautiful, descriptive recitations of Vrindavan lila, such as his famous 'Demons of Vrindavan' seminars.
The retreat itself will take place in Blackton Grange, a large, traditional, stone-built farmhouse, nestling within an 11 acre hillside estate in the North Penines Area of Outstanding Beauty, between the picturesque towns of Middleton-in-Teesdale and Barnard Castle.
The retreat will start on the Friday afternoon and will finish on the Monday afternoon, which as we said, is a bank holiday.
There are limited spaces available, a total of 47 beds in all, so it will be on a 'first come, first serve' basis. The total cost of the retreat, which includes 3 nights with full-Prasadam every day (breakfast, lunch and dinner), plus association of HH Bhakti Caitanya Swami and many wonderful devotees will be:
· £75 for adults
· £55 for children under 12 years old
· Free for children under 4 years old
To reserve a place for the retreat, we ask that devotees pay a deposit of half the total cost (non-refundable) by Saturday 30th May 2015.
We are attaching a poster with this email and we will also be sending a hard copy of the poster. We humbly request that you can please circulate this email amongst your congregation and that you could also place the poster on your noticeboard, to let everyone know about this wonderful opportunity!